Two brilliant poets have left the earth, but their books live on in words and images
~~~~~~~~~~~~~~ FROM VPR.NET
Once called the unofficial poet-laureate of the Northeast Kingdom, poet Leland Kinsey has died at the age of 66. Kinsey was born in Barton. He was a seventh-generation Vermonter and farmer whose poetry was shaped by his life farming in the Kingdom and by the people around him.
Friends describe Kinsey as a masterful poet, a gifted teacher and an avid fisherman, not to mention a farmer, a printer and naturalist. He spent most of his life working the rocky soil that his family farmed for generations. His dedication to that hard work, along with his love of that unique northern geography, come through in his poetry.
Vermont author Howard Frank Mosher first met Kinsey when he was a student in Mosher's high school classroom. He learned that Kinsey wrote poetry and asked him to share a few poems.
"And I remember taking one of them home and showing it to my wife, and she said, and I quote: 'My goodness, this kid should be teaching you.'"
Mosher says Kinsey went on to study poetry, and ultimately earned an MFA at Syracuse University.
Afterward, Kinsey was offered a job teaching at the university, but Mosher says Kinsey made a bold decision to instead return to his native Vermont and write without the support of a university. The two became fast friends and neighbors.
"He wrote not because he wanted to be seen as a poet, or because he wanted acclaim, but he wrote because he loved good writing, and he loved the subjects that he wrote about."
"He wrote not because he wanted to be seen as a poet, or because he wanted acclaim, but he wrote because he loved good writing, and he loved the subjects that he wrote about." — Howard Frank Mosher, author and friend of Kinsey's
Those subjects included the natural world around him, rivers, trout, chimney swifts and the farm fields where he "picked stones" and the tractors he repaired, or any number of other scenes from daily life whose imagery he used to explore themes of work, family and time.
"He wrote better about nature than any contemporary poet I can think of," Mosher says. "There was nothing about the birds and the butterflies, and the trout and the deer and the moose of New England that he didn't know."
Hear Leland Kinsey interviewed and read some of his poems on Vermont Edition in 2014. 
Mosher says that being a seventh-generation Vermonter, Kinsey wrote about the state "from the inside out." Mosher considers his writing some of the most authentic representation of Vermont that there is.
"His like will not be seen again," Mosher says. "He was really the essential Vermonter who could do anything —  he could milk a cow, he could fix a broken tractor, he could give a lecture at Harvard on modern poetry, he was a polymath."
His publisher, Dede Cummings of Green Writers Press based in Brattleboro, echoed that sentiment: "He has been a teacher, but he's also been a sugar maker, and a logger and an ornithologist; he's a fly fisherman. He's just a renaissance man."
Cummings says Kinsey dedicated hours of work to the at-times back-bending task of farming the land.
"He approached poetry in that same vein, of this is hard work," says Cummings. "He said he would go out to his little cabin — his writers retreat on property — and read aloud poems to himself to hear the cadence of the lines."
Cummings says it was Mosher who introduced her to Kinsey's poetry about three years ago, and after reading his work she quickly agreed to publish the book of poetry, Winter Ready.
"I immediately fell in love with Leland's writing, which is so Vermont, that's all I can say. The flora and the fauna of Vermont, and the farming life and the beauty of our state, it's all there."
Kinsey also taught poetry to students in more than 100 Vermont and New Hampshire schools, as a part of the Artists in Schools program.
Kinsey died Wednesday night at age 66 of lymphoma. He is survived by his wife, Lesley; daughters Hannah and Desiree; his son, Harris; and his sister Natalie Kinsey-Warnock.
His latest collection, Galvanized: New and Selected Poems, was released this spring. And his publisher says he was working on a new book of poetry, which will be published some time next year.
~~~~~~~~~~~~~~ FROM SEVEN DAYS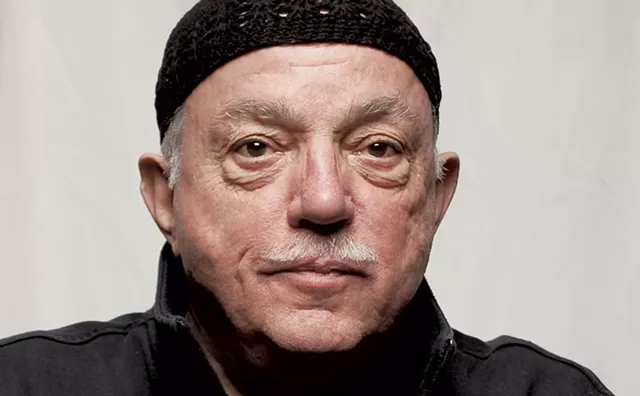 JOSHI RADIN PHOTO
Vermont poet and playwright David Budbill left this world on September 25, succumbing to a rare form of Parkinson's disease called progressive supranuclear palsy. He was 76. Budbill made many friends and earned a legion of fans. We asked just a few of them to share their thoughts, memories or poems this week.
Neil Shepard
Writer, teacher, lives half the year in New York City, half in Johnson
I met David Budbill in the late 1980s when I taught at Johnson State College and started the Writers Program down the hill at the Vermont Studio Center. I invited him to read at both college and colony, and a decade's friendship followed. Those were the years when David was still writing his Judevine poems — Why I Came to Judevine (1987) and Judevine: The Complete Poems(1991). He was also converting them to a play, Judevine.
David seemed vitally alive during this period, interacting with directors and actors, rethinking and recasting the poems for the stage. I saw and admired both versions of the play, impressed by how he enlarged and deepened it. I published several of his poems in the literary magazine I edited, Green Mountains Review. David's "plain style" poems — including one about "Vinegar Bob, the Academic" — fit just fine within these "academic" pages:
'Flawed Verse'
Vinegar Bob, The Academic, laughs at my flawed verse and says,
He writes short stories, then chops up the lines so he can pretend they're poems.
I say: What's wrong with short stories?
Vinegar Bob, The Academic, laughs at my flawed verse and says,
He has no command of prosody. He just throws words down anywhere on the page.
I say: Yeah, that's right. I'll throw 'em down anywhere I like.
David and I both loved jazz, and we sometimes jammed together in far-from-professional sessions, I on piano and David on sax (less often, on the shakuhachi). At some point, we hatched a plan for his next reading at JSC. He would read poems and, intermittently, accompany himself on the sax. The plan was better in conception than actualization. I remember Lois, his wife, listening with a mixture of bemusement and disbelief.
As far as I know, David never again attempted to be two performers at once. But later, he found other ways to combine words and music: performing with the great jazz bassist William Parker, with pianist Michael Arnowitt and, sometimes, with the poetry-and-jazz ensemble to which I belonged, PoJazz.
We also bonded over Chinese poetry. I'd taught in Shanghai in the early 1990s, and I brought back contemporary poems from the so-called Third Wave of Chinese surrealist poetry. Though David admired these poems, his real passion (and mine) was for the more straightforward poems of ancient Chinese hermit poets. He was beginning to experiment with his own "American-made Chinese poems" — short, simple forms that echoed across time.
I remember how excited but hesitant he was, initially, about these poems. He wondered whether they were too appropriative, too slight. I published several of them in GMR and encouraged him, at a second VSC reading, to start with the tried-and-true Judevine poems and gradually work in the Chinese poems. He did. The crowd responded with wild applause. Afterward, during the Q&A, several poets in the audience praised David's new poems, noting how they added breadth and heft to his poetic output.
David's death brings back to me his life. I knew how fully he embraced his world — the writing, the music, the gardening, the woodcutting, the solitude. I can only imagine how much he missed it near the end. Gardening and woodcutting were his seasonal enjoyments; the poems, prose and plays were for everyone. I suspect his words will nourish us for years to come.
Jim Schley
Writer and editor, Strafford
David Budbill was sui generis, one of a kind. He was also a regular neighborly man, curious and often amused. While ever ready to shout with outrage at what he deemed bigotry or pompous excess, he kept on aspiring to the vigilant detachment of those he considered his nearest and dearest artist peers: Li Po, Wang Wei, Han Shan and others. These tough, clear and persisting poet-sages of ancient Asia walked away from city life and society's intrigues to watch the shifting panoply from far off.
In his own poems, David could slide between rueful and aghast, gleeful and grieving. He could be daftly roundabout or bluntly declamatory. A skillful gardener, shrewd about upland weather and the bugs and beasts that would avidly devour his plantings, he built an authorial career likewise, methodically but warily. He seemed to enjoy shrugging or scoffing at the accolades not gained.
Over many years, I've read and enjoyed David's books, but I always thought he was at his brightest and funniest and most complete onstage, in particular when braiding verse and polyrhythms with the majestic bassist and flautist William Parker and drummer Hamid Drake. And I'll treasure forever seeing three performances of last year's revival of the gorgeous Erik Nielsen opera A Fleeting Animal, with a libretto by Budbill. This rendering of the story of Tommy and Grace was so starkly beautiful, and Tommy's death at the opera's climax was as affecting as any end-of-life I've ever witnessed, in any art.
Bravissimo, David Budbill. Thank you.
Jody Gladding
Vermont poet and longtime friend, East Calais Gladding opted to contribute a resonant Budbill poem from his book Happy Life(Copper Canyon Press, 2011).
'Out in the Fall Woods'
Out in the fall woods again this year,
cutting firewood.
Now sitting under a big white pine tree
writing this,
I wonder how many more years
I will be able to
work here, wander here,
do this:
smell the dying ferns
and leaves, listen to
the geese going south, stare up through
the branches of
these trees, see the clear-blue-blue-clear
autumn sky.
Dede Cummings
Publisher/managing editor, Green Writers Press, West Brattleboro
At Green Writers Press, we are mourning the loss of a great Vermont writer, David Budbill. But David is still very much with us in spirit and through his books. His forthcoming book, Broken Wing, will be published posthumously in November.
David had control of the process throughout his illness, and his daughter, Nadine, worked closely with me to bring the book to fruition and out to the world. Broken Wing is David's final work of prose in book form. We brought on Vermont artist Donald Saaf to add whimsical and lyrical illustrations throughout, in accordance with David's wishes.
Broken Wing is the story of one man's love for birds and efforts to save a rusty blackbird that can't fly south for the winter. But it is really so much more. I look at it as a folktale for all of mankind, a paean to nature and the world we so precariously inhabit, and a plea to end racism.
In Broken Wing, David has composed a monumental love letter to the natural world, an astute and minutely observed portrait of the avian inhabitants of a mysterious hillside orchard. The Man Who Lives Alone in the Mountains, a reclusive keeper of the Earth whose soul is devoted to one injured rusty blackbird, embodies a narrative voice compelled to witness, in the rhythm and brutality of the seasons, the intimate patterns of the wild creatures surrounding his home.
David's lyrical storytelling effortlessly transports the reader into his realm with a rare and poetic beauty. This book will live on, in the timeless, mythic way all great folktales do, and David himself is held within the pages for all of us to cherish.
~~~~~~~~~~~~
NOTE: There will be a tribute to the poet/author/musician David Budbill in Brattleboro on Sunday, November 13th at 3:00 at 118 Elliot Street sponsored by Vermont state poet laureate Chard deNiord.